Archive for category Rooms
Complete guide to choose your bedding set Materials
Do you realize that you spend about one-third of your life in bed? Knowing that, you should make sure that you are as comfortable as possible while you're there. The type of fabric you select will make a huge impact on your comfort level. And with so many materials available, you should think hard about what type of sleeping experience you desire.
The most popular choices are cotton.
Cotton is a soft, staple fiber that grows in a form known as a boll around the seeds of the cotton plant a shrub native to tropical and subtropical regions around the world, including the Americas, India and Africa (Wikipedia).
Cotton bed sheet are most popular due to their fine qualities. They will keep your body cool in the summer and prevent you from feeling sticky and sweaty on hot night. Cotton sheets will tend to breathe or absorb moisture very well. In addition to being comfortable, manufacturers tend to produce them in more styles and colors (than other sheet types) to keep up with customer demand.
You can find several types of cotton sheets available on the market. Each has a different percentage of cotton to polyester ratio and thread count (200, 400, 600-count or higher sheet set). If the sheets are pure cotton, they may shrink after several washing.

The two best cotton types are Egyptian and Supima (Pima). Both will provide a soft and luxurious feel to the fabric. Egyptian cotton is grown in the Nile river valley and Pima is a U.S produce very soft, luxurious and durable cotton, as well as resistant to the normal wear and tear that cause pilling.
Some people prefer non-wrinkling cotton blends. Poly-cotton sheets will tend not to breathe or absorb moisture as well as natural cotton. You will tend to save money if purchasing poly-cotton sheets, as their materials are less expensive to produce.
Bamboo bedding is become a trend.
The use of bamboo fiber for bed sheet and clothing was a 20th century development, pioneered by several Chinese corporations.  This fabric has been growing in popularity because it has many unique properties, more sustainable than most textile fibers and of course very suitable for "green" lifestyle.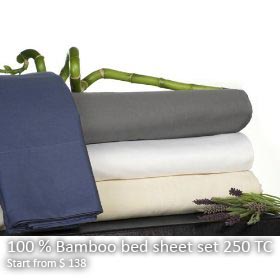 Bamboo bed sheet made from natural textile of the bamboo grass with several advantages.
Bamboo fibers are very soft, so bamboo sheets have a nice silky feel, but they aren't slippery at all. They have the ability to insulate, which means that they can be used in both summer and winter. The sheets will actually help to keep you cool in the summer months and warm in the cold winter. Bamboo sheet can absorb moisture 1.5 as much as cotton, making them very comfortable in warm weather.
Bamboo bed sheet are light, strong and extremely durable.  Bamboo has approximately 3 times the service life of cotton.
Bamboo has the natural anti bacterial and deodorant properties, which allow the bedding to kill and eliminate odor-causing bacteria. They are also antifungal. This property is a natural way for the bamboo forest to protect itself from bugs and other vermin that would consume the plants before they reached maturity. Many people who experience allergic reactions to other natural fibers, such as wool or hemp, do not complain of this issue with bamboo.
Bamboo sheets come in a wide variety of colors and thickness, so you can use them in any type of bedroom or to fit and decorating scheme. The prices are almost the same when compared to cotton.  Bamboo sheet are hard to find in stores or large retailers but your can always find them online.
Satin sheets appeal to the senses
Satin bedding can be made from a variety of different fabrics, normal silk, rayon, or polymer-based fabrics such as polyester or acetate, and nylon. Satin signature shine is created through the weaving process, where some of the threads are floated, meaning brought to the top during weaving, which causes the threads to reflect light and create a glossy finish. Synthetic fibers are used now to bring t

he cost down.
Satin bed sheets are known as luxury item and give a sexy feel to the bed. They look especially sensual with the glow of candlelight in the room. It can actually make us feel cooler. But the fabric is usually a tight wave and doesn't easily let out moisture. Satin doesn't breathe well and can be quite uncomfortable to sleep in during the warmer months.
Satin sheet require more than regular cotton sheet, particularly when it comes to washing. Washing and drying your sheet depend on the material. Satin sheets made from acetate should be dry cleaned, but can stand hand washing if you use a delicate detergent and tepid water. If your satin sheets are made from polyester or nylon, they can be machine-washed on delicate.
Silk for the ultimate in luxury
Silk is a fiber made from proteins that silkworms secrete and is sought after for its luxurious feel and extreme softness. Silk is a natural animal product that is difficult to make and requires thousands of silkworms to produce silk threads, which then must be extracted and woven, making silk sheets very expensive.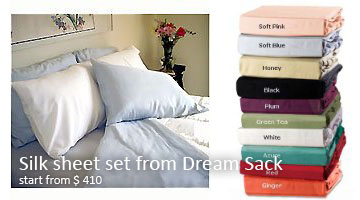 Silk bedding and satin bedding have similar appearances, but keeps uniqueness in its own way. You can expect more natural feel from silk. Your bed will look and feel sumptuous. During warmer months, Silk absorbs moisture to keep you cool and, during colder months; they eliminate air pockets and retain your body heat to keep you warm.
Silk sheets are delicate and should be hand-washed in cold water using a detergent for delicate materials. The dye might run, so wash them separately. Dip the silk sheets in the soapy water several times and avoid excessive wringing or you could damage them. Rinse with clean, cold water and hang to dry, but never in direct sunlight because it will damage the silk.
Flannel sheet for the cold winter
Flannel is a soft woven cloth of wool or a blend of wool and cotton or synthetics material. It is napped, most often on both sides, the degree of napping ranging from slight to so heavy that the twill weave is obscured. Flannel is a relatively warm fabric, since still air is held in the fabric because of the napping.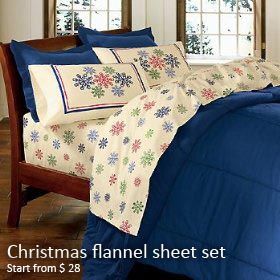 Most people exclusively use flannel sheets in the cold month especially for kids. They are great for winter use and rarely a good choice for warm climate because they do hold heat. Other associated them with a stuffy, overheated bed. Most high quality flannel sheet are made from a blend of wool and cotton. The wool ensures warmth, while the cotton adds softness in bed sheet.
Flannel sheets are easy to take care. They are very durable. Typically, flannel sheets can be washed in cool or warm water. Do not rub the fabric, which can contribute to pilling and a worn look. Flannel sheets can be dried in a dryer on low heat or hung on a clothesline.
Flannel sheets available in many solid colors and prints. For adults there are plaids and solids. For children there are many fun prints available with colorful designs such as floral, cars, or animals. You're sure to find colors to coordinate with the bedroom décor.
Thread Count
Thread count is an index of the compactness of a fabric determined by counting the number of warp yarns and filling yarns in 1 square inch of fabric both vertical and horizontal. Right on the front of the label, the manufacturer will tell you the tread count of the sheets. It will determine just how soft your sheets are. The higher are the thread count, the softer the sheets will feel and therefore the better quality of sleep.

The majority of bed sheets sold fall with range of 175 and 400. Since higher thread counts are thought to be softer and more durable than lower ones, they are significantly more expensive. In general, you should always avoid any sheets that have a lower count than 200 because they won't feel good on your skin, but scratchy and uncomfortable. If you buy sheets with a thread count of over 250, you should have a pretty good night's sleep.
Some materials such as flannel do not conform to high thread count standards. These materials are often chosen for their look and feel and attempting to make them softer compromises the other aspects of the materials. Considering these factors will help you to purchase bed sheets that suit your style and match your décor as well as providing you with a comfortable sleeping space.
Related articles :
Your bedroom as a reflection of your personality